Three Course Dinner £45 
Choice of Two from each course plus a vegetarian option
Two Course Dinner £38 
Choice of two from each course plus a vegetarian option
Starters
Soup of the moment (GF, VG available)
served with warm bread
Goat's cheese, tomato & basil parcel (V)
drizzled with a warm balsamic reduction
Kiln baked salmon (GF)
with our homemade new potato salad and herb oil
Cornish crab salad (GF)
with pickled cucumber
Chicken Caesar salad (GF available)
served with a soft poached hen's eg
Cornish confit duck terrine (GF available)
with red wine poached pears and toasted rustic bread
Mains
All served with seasonal vegetables
Squash and pistachio roast (GF, V)
baked with finely chopped walnuts and rosemary
Sweet potato & butterbean crumble (GF, VG available) topped with torn feta (optional)
Grilled fillet of local sea bass (GF available)
with crushed Cornish new potatoes & white wine veloute
Pan seared Cornish chicken breast (GF available)
with fondant potato & creamed leek sauce
Rich lamb shank (GF available)
slow roasted with rosemary and garlic served with creamy mash
Traditional beef wellington
Stuffed with chicken & mushroom pate served with Duchess mash
Pan seared pork tenderloin (GF available)
with a creamy whole grain mustard sauce with hassle back potatoes
Desserts
Elderflower panna cotta (GF)
with honey and cinnamon roasted figs
Baked lemon tartlet (V)
with berry compote and clotted cream
Chocolate fudge brownie (GF, VG available)
with clotted cream vanilla ice cream
Old fashioned Sticky toffee pudding (V)
with toffee syrup and Cornish Clotted cream
Apple crumble (V)
with crème anglaise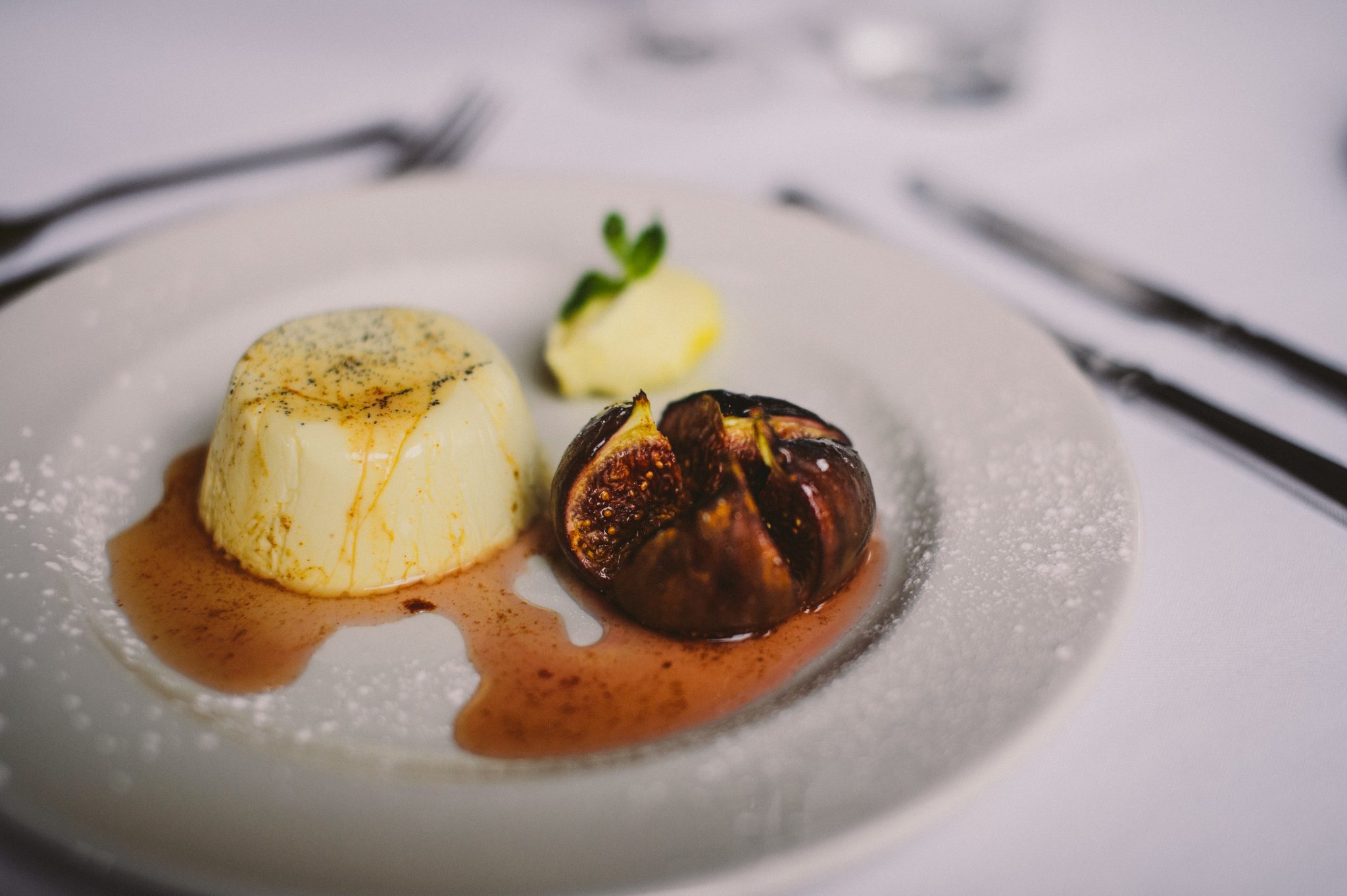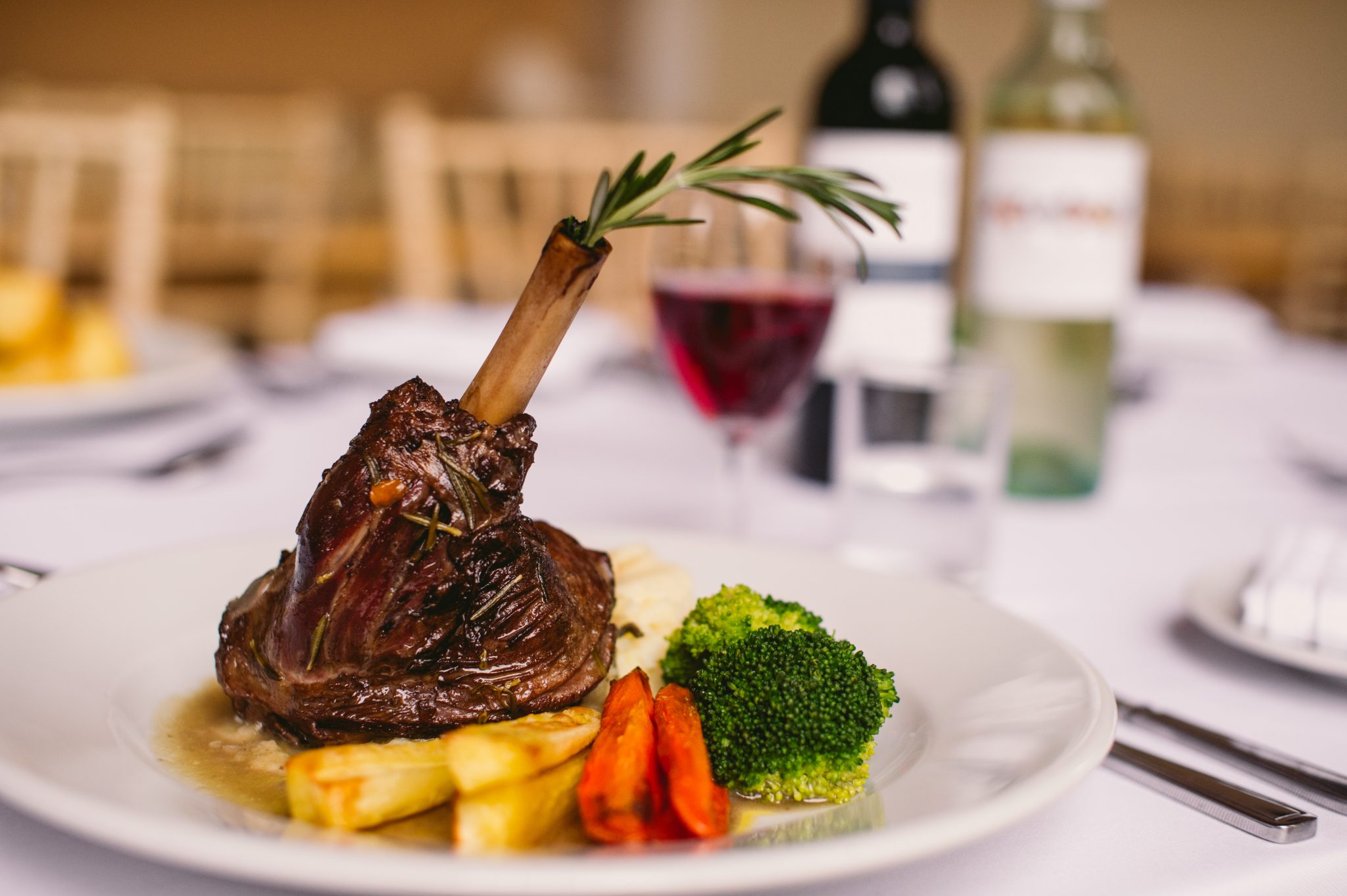 Sharing Platters £35
Roasted beef sirloin, Slow cooked Lamb or vegan Tagine, whole roasted Tzatziki chicken or baked aubergine stuffed with seasonal roasted veg. Served with roasted new potatoes, green beans & herbs, roasted squash & feta cous cous, chargrilled seasonal greens, homemade hummus with chic peas & pomegranate, Tzatziki dip, homemade flat breads.
BBQ £35
Homemade beef burgers or halloumi burgers with roasted tomatoes and peppers, honey roasted sausages or vegetarian sausages, marinated chicken and chorizo skewers or vegetable skewers, chilli tiger prawn skewers. Served with tomato and mozzarella salad, Greek salad and a selection of breads
Chef's Buffet £35
Roasted sirloin of beef or baked aubergine stuffed with seasonal roasted veg. honey roast ham or homemade vegetarian pizza, dressed whole salmon or leek and goats cheese tart. Served with crushed new potato salad, tomato and mozzarella salad, Greek salad, Mediterranean vegetable cous cous, fresh breads.
Dessert Station £10
A selection of homemade mini desserts:
Baked cheesecake
Lemon tart
Warm chocolate brownie
fruit skewers
scones clotted cream & strawberry jam
Afternoon tea £19
With a glass of Prosecco £25
Freshly prepared finger cut sandwiches
Leek, goat's cheese, walnut and lemon tart
Homemade scone with Cornish clotted cream & jam
Chocolate brownie topped with a fresh raspberry
Rich decadent white chocolate truffle covered in white Belgian chocolate
A pot of Organic fair trade tea.
Canapés £10
Honey roasted dates wrapped in Parma ham.
Mini Yorkshire pud with rare beef and horseradish crème.
Prawn skewers with chilli garlic & coriander.
Cornish cheese and grape sticks.
Miniature cheese and cherry tomato quiche.
Homemade scones £5
Homemade scones, Cornish clotted
cream & strawberry jam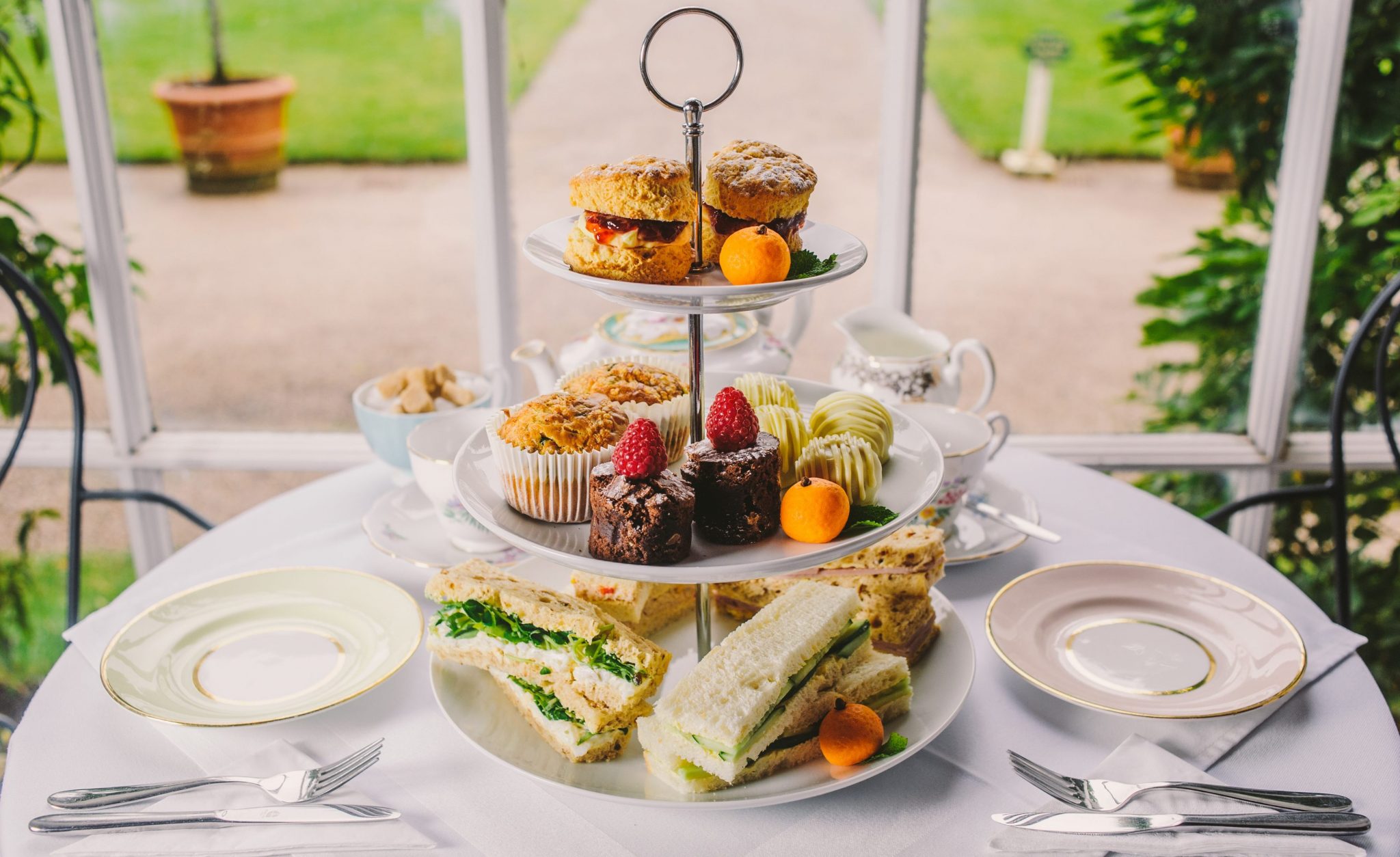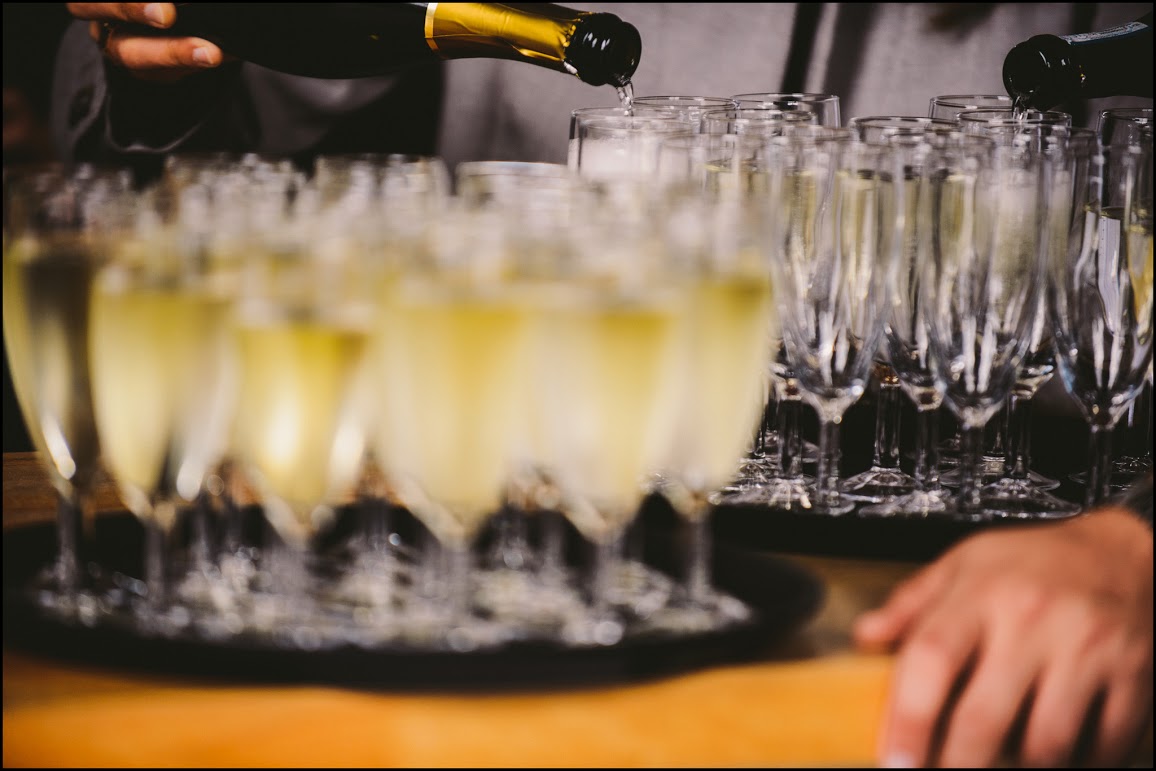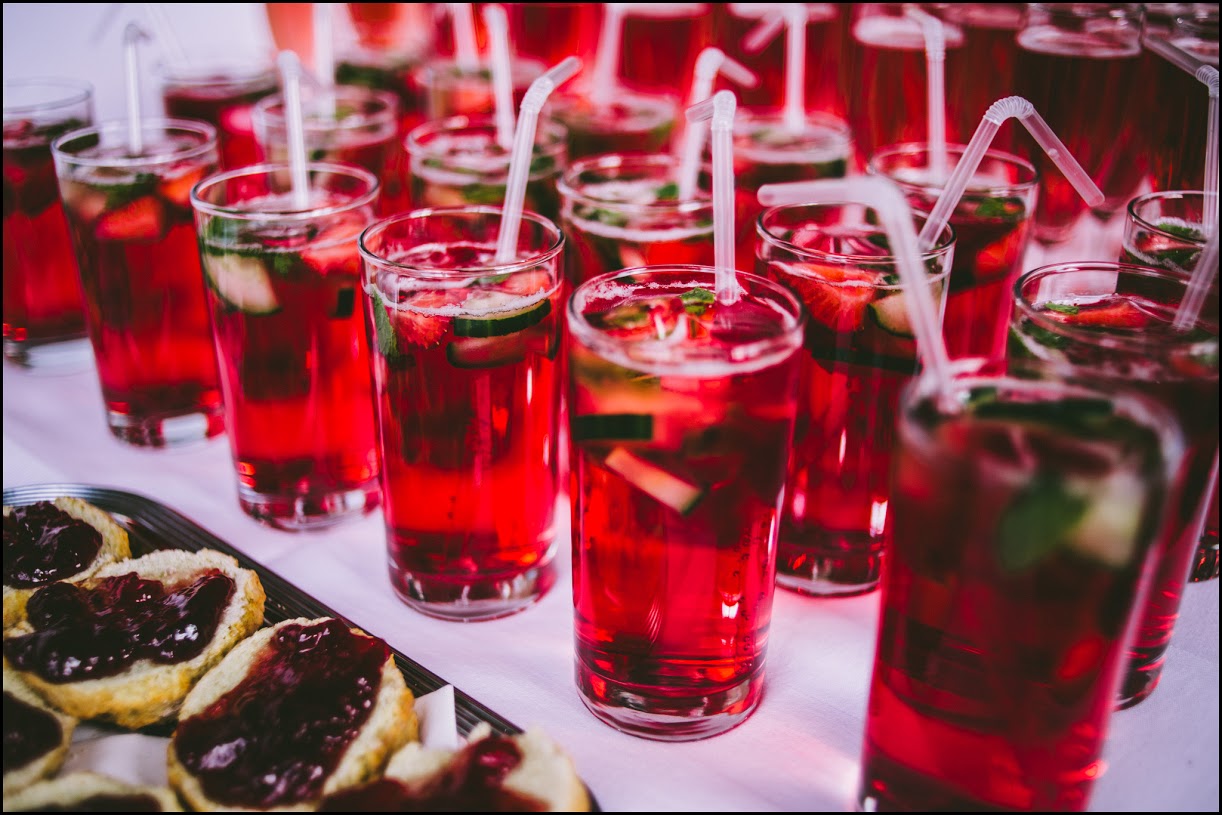 ---
A note from us
As you know the food and drink industry is forever changing, from cost to produce to current trends. So in order to keep our menus up to date there will be slight changes every year including cost.
If you are looking at this menu now and your event is not this year this will be an example menu only.
Should you fancy something specific or a dish off one of our previous menus we will do our utmost to cater for it.
No food or drink can be brought into the Orangery.
Good £20 per bottle
White | Coreto | Portugal
A combination of delicate aromas, delicious apple and grapefruit flavours and a lively finish. Something a bit different from the normal offering and well worth discovering. 12% vol
Rose | Coreto | Portugal
Award-winning wine for its intense fruity aromas, mouth-watering juiciness and crisp, fresh flavours of strawberries and raspberries. A great all-rounder. 12% vol
Red | Coreto | Portugal
Coreto could easily be your favourite daily wine. Medium-bodied, smooth, balanced alcohol and tannins with fresh herbal notes and berry fruit flavours. 12.5% vol
Better £30 per bottle
White | Sauvignon Blanc Taringi | Marlborough, NZ
Distinctive Marlborough aromas leap out of the glass
and continue to the palate. Gooseberry, nettle, lime and passion fruit. A Pleasingly crisp finish leaves you wanting more. 12% vol
Rose | Crazy Tropez | France
This deliciously fun and fruity little number is produced by Domaine Tropez. A sweeter style pale rosé made from 70% Grenache and 30% Cinsault. 13% vol
Red | Malbec Tamari | Mendoza Argentina
Soft red fruits notes with elegantly smooth tannins and a lingering finish. A great example of Argentina's hallmark red wine. 12.5% vol
Best £40 per bottle
White | Knightor, Carpe Diem | Cornwall
It is delicate, lively and fresh with aromas of elderflower, nettle and apple. Crisp and clean on the palate with plenty of fruit flavours and a long tangy gooseberry filled finish. 11% vol
Rose | Knightor, Carpe Diem | Cornwall
Fresh summer fruit and floral notes on the nose, balanced acidity and delicate notes of pink grapefruit, raspberry and citrus on the palate. 11% vol
Red | Knightor, Carpe Diem | Cornwall
Lightly oaked, youthful and fresh. The nose is full of ripe berry characters such as cherry and strawberry, yet the Regent also provides it with crushed black pepper, spice and a little blackcurrant leaf. 11.5% vol
---
Knightor Brut, Cornwall | £10 | 12%vol
Well-balanced with good depth of fruit flavour, and subtle complexity from lees ageing in bottle. Perfect for any celebration.
Prosecco Borgo Sanleo, Italy | £6 | 11% vol
Intense floral, fruity bouquet. A wonderfully fresh and well-balanced, appley palate with just a hint of delicate almond
Traditional Pimms & Lemonade | £6
A 50ml shot of Pimms poured over ice, served with fresh orange, lemon, lime, mint and strawberries then topped with lemonade.
Warre's Heritage Ruby Port | £4.5
This is a full and fruity ruby Port in the classic style. Perfect for cheese and chocolate based desserts 20% vol
Summer Fruit Punch | £3.5
Fresh mint, strawberries, lemon & sugar syrup
served over ice then topped with cranberry & soda
Orange Juice | £2.5
Fresh orange juice served over ice with a wedge of fresh lemon.
Lemonade | £2.5
Schweppes lemonade served over ice with a wedge of fresh lime.
After dinner tea and coffee | £3.5
Your choice of freshly ground organic coffee or a selection Cornish fair trade teas
Our promise to you
We at The Orangery pride ourselves on our outstanding service and promise you an unforgettable event.
All of our dishes are inspired by local produce and created here by our in-house chefs.
We also operate a fully licensed bar and carry an extensive range of alcohol. Tea, coffee and soft drinks will be available throughout your event.
Photographic ID must be shown at the bar if you do not look 25 or over.